Constructed with powerful dual motors, it reaches up to 56mph and 124-mile
New York City, NY — Obarter, a renowned company in the e-mobility industry, is expanding its innovative electric scooter line and extending its commuter range with the newest member. The Obarter X7 Super Electric Scooter is designed for thrill seekers with a furious speed and extended range that builds on top of its predecessor. In addition, the new X7 model has upgraded features with excellent stability and off-road capability, making it possible for users to ride on any terrain.
With the goal of being a pioneer in micro-mobility, Obarter's efforts to appeal to its consumers offer a glimpse into the future of commuting and explore unique ways to maximize the product from standard commuting to off-roading. The exclusive 14-inch pneumatic tires further secure the vision of riding uphill at a 55% grade slope, conquering all types of terrain coupled with an IPX5 rating that allows users to ride in most weather conditions.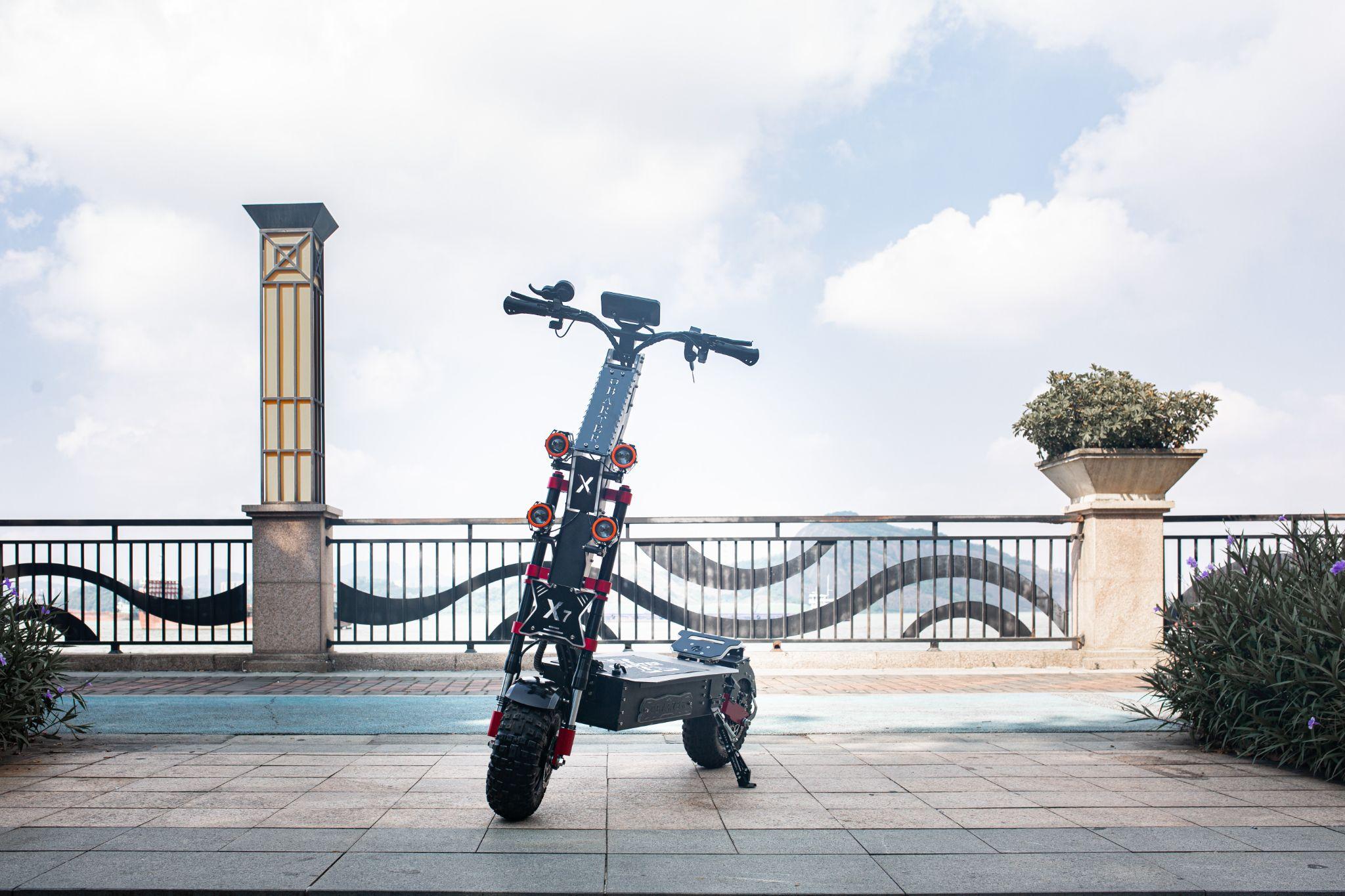 An Ultra-Powerful Braking System
Despite its furious speed, Obarter ensures the safety of its consumers by integrating a powerful braking system into the latest X7 electric scooter. The system includes 160mm hydraulic front disc brakes with two pistons and dual 160mm rear disc brakes with a total of 4 pistons. Thanks to the additional electronic brake in the rear, users can stop on their own even at high speeds.
"We want our consumers to experience a fast and wild off-road journey, which is easy to achieve with our high technology and innovation that prioritizes safety," says the founder of Obarter.
Dual Motors, 2WD System and Massive Battery Capacity
The Obarter X7 E-scooter features ultra-powerful dual motors with a peak power of 8000W, each with a peak output of 4000W that extends the motor life to 3000 hours. Moreover, the X7 e-scooter is equipped with a 2WD system that provides better grip and distributes power to both wheels at all times when riding off-road. Powered by a 3600Wh high-performance removable battery, the X7 E-scooter achieves an extended range of up to 124.2 miles with a cooling system for the controller and battery to ensure safety and longer service life.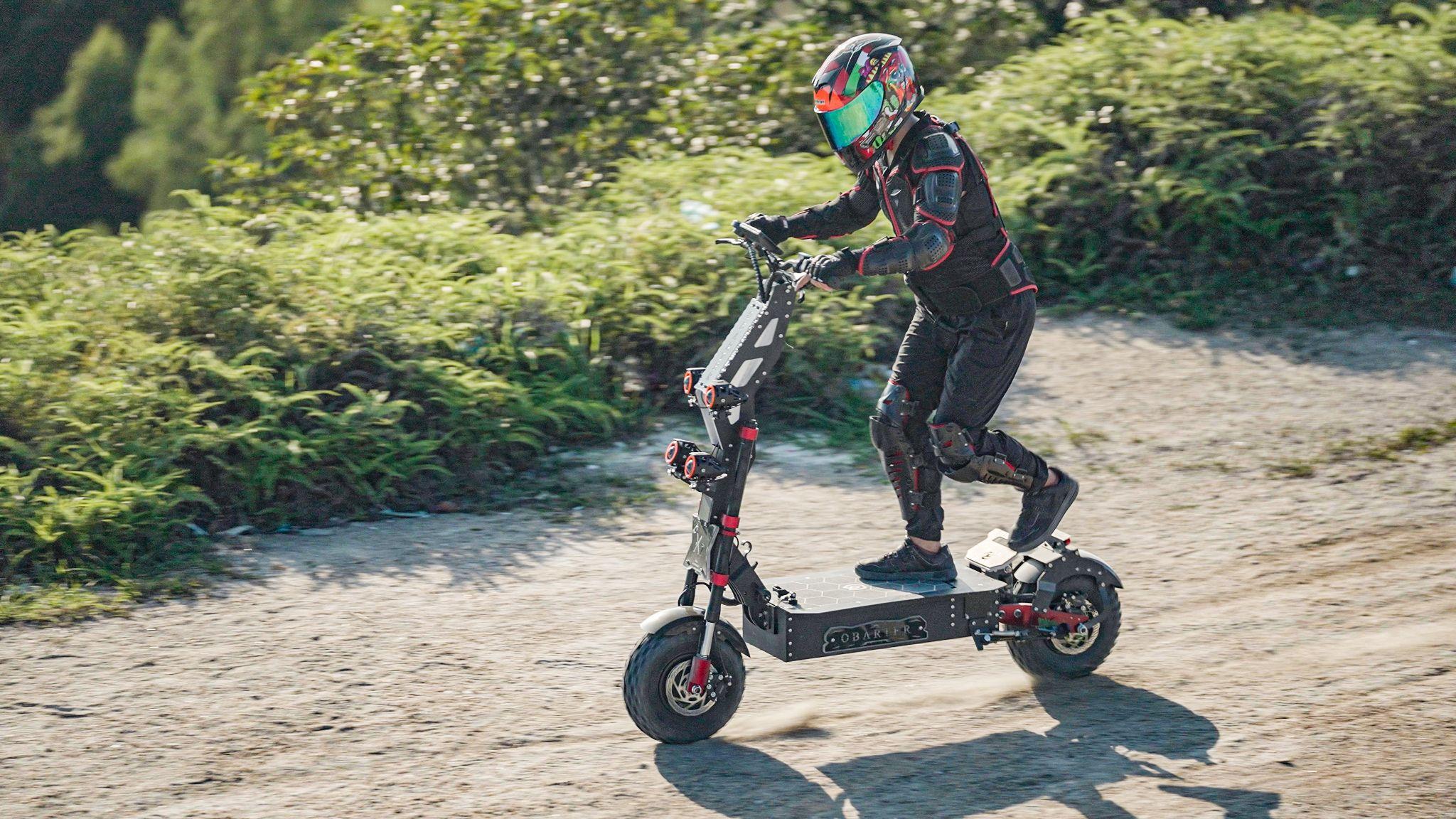 Key Features of the Obarter X7 E-Scooter:
The ultra-powerful dual motors with a combined peak power of 8,000W extend the motor's lifespan of up to 3000 hours.
An 60V, 60Ah battery delivers an extended range of up to 124.2 miles (200km).
A power braking system that includes both 160mm front and rear hydraulic disc brakes (dual disc brakes in the rear), with an electronic rear brake.
A 3600Wh high-performance removable battery with ventilation system for controller and battery.
Two 14-inch off-road tubeless pneumatic tires with a width of 92mm for a smooth ride on sand, wetlands, slopes, and tiled floors.
An advanced full suspension with a hydraulic front fork/dual rear shocks and a trailing-arm structure.
Features LED dual front lights, LED daytime running light, and turning signal lights in the front and back of the scooter for enhanced riding safety.
A dedicated cooling fan for the FOC controller ensures the capability for long rides, which is the first in the escooter industry.
An industry-leading top speed of up to 55.9 mph (90 kph).
The aircraft-grade aluminum alloy frame with iron reinforced structures provides a steady riding experience with a maximum payload of 275.5Lbs (125KG).
A digital LCD main display and side controller enable the rider to monitor and adjust riding speed, distance, power, and related data in real-time.
The scooter body can be folded for better portability and the four safety latches ensure the safety and rigidity of the scooter frame.
A spring saddle with a suspension pole can be attached to the riding deck via a reinforced structure, which makes the long rides more enjoyable.
About Obarter
OBARTER focuses on the development of electric scooters and strives to implement the concept of "energy saving, environmental protection, health, creation of features and branding" to advance the development of the green industry and move closer to the goal of energy saving, carbon reduction, and sustainable energy.
Contact Detail:
Company Name: Obarter
Contact Person: Media Relations
Email: Send Email
Country: United States
Website Url: https://x7.obarterescooter.com/


Source: www.PRExhibition.com